cThe chestnuts are roasting on an open fire, folks are dressed up like eskimos, and it's time to kick back and celebrate everything you've accomplished this year! Running a small business is no small feat, and we salute your hard work.
No matter how you celebrate the season, gift-giving is part of the fun. To get in the spirit of things, we're doing a little GIF-giving of our own! Make your list and check it twice: whether you're naughty or nice, these are the things that would make any small business owner's holiday wishlist. Curl up by the fire and enjoy!
1. The perfect employee
Delegating a piece of your vision to someone else for the first time can be gut-wrenching. Your business is your baby! But finding that perfect someone to help take your company to the next level? Priceless.
2. A room full of regulars
Running a business has its ups and downs, but the people who keep coming back—no matter what—make it all worthwhile. If only all your customers could be so loyal.
3. A big tax return
That dance you do when a huge refund is coming your way…these reindeer know what's up. How great would it be to get a surprise bonus check from the IRS come spring?
4. Selling out of all your inventory
There's no better feeling than clearing out of all your inventory right on schedule. Cheers to you, you in-demand marketing genius!
5. Extra vacation time
Of course, you love your business, but a little extra time off never hurt anyone!
6. Free press, marketing, or social media
If only a highly excitable man dressed like an elf could shout your good reviews from the rooftops.
7. New equipment
New gadgets that function better than a snarl of Christmas lights would be nice.
8. A clone of yourself
So you could stop trying to do everything for everyone and be in all the places, all the time. Of course, you could also just find the perfect employee (ref item one on this list). The only other option is to, you know, never sleep.
9. Unlimited financing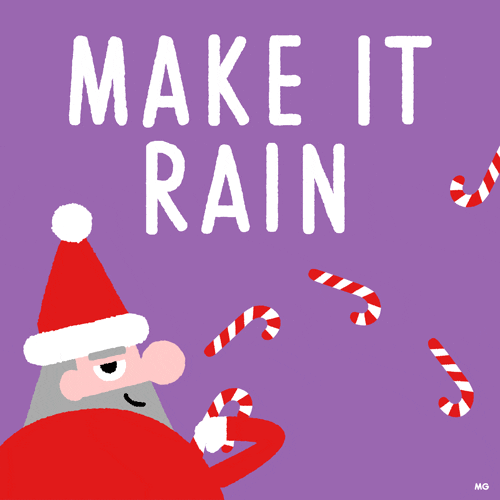 https://media.giphy.com/media/xTk9ZLRMhW9wrSUf4c/giphy.gif
How great would it be if your backers made it rain cash all year long?! Just imagine how your business could grow with an endless supply of financing.
10. Another great year!
As it turns out, 2017 was a great year for small businesses. Based on early projections, "nearly three-quarters of entrepreneurs are optimistic their 2017 year-end revenue will surpass 2016 revenue." Cheers to you and here's hoping 2018 is even better!
Kick back with friends, family, and a toasty mug of hot chocolate and enjoy the holiday season! We can't wait to see what next year brings (hopefully, human cloning 😉).
[image:
Dicken's Village at Night by Kevin Dooley
 on flickr]
---
Clover is sold by leading U.S. banks including Bank of America, BBVA, Citi, PNC, SunTrust and Wells Fargo. You'll also find Clover at our trusted partners including CardConnect, Restaurant Depot, and Sam's Club. For more information, visit us at clover.com.